Dastra manufactures a wide range of sweeps, sizes and profiles (straight, spoon, long bent, back bent and fishtail) from 2mm to 40mm. If you don't see what you are looking for please call 720-502-6687 or email us for availability, pricing and delivery information.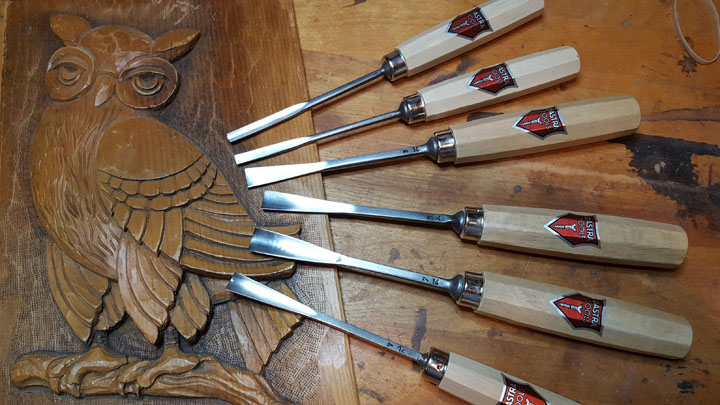 Dastra Fishtail Gouges
Used to carve corners that would not be accessible to a standard gouge.
Dastra Long Bent and Spoon Gouges

The illustration to the right shows the four basic blade profiles:

A. Straight
B. Long Bent
C. Spoon (Short Bent)
D. Back Bent

The illustration shows gouges but the definitions also apply to chisels and V tools.

Stock #
Description and Size
Price
Purchase
21-3
#21 Spoon Chisel 3mm (#1 Sweep)
$42.00
Add to Cart
21-5
#21 Spoon Chisel 5mm (#1 Sweep)
$42.00
Add to Cart
21-10
#21 Spoon Chisel 10mm (#1 Sweep)
$42.00
Add to Cart
24-6
#24 Spoon Gouge 6mm (#3 Sweep) (Back Ordered)
$44.00
Add to Cart
24-12
#24 Spoon Gouge 12mm (#3 Sweep)
$46.00
Add to Cart
27-6
#27 Spoon Gouge 6mm (#6 Sweep)
$44.00
Add to Cart
27-12
#27 Spoon Gouge 12mm (#6 Sweep)
$46.00
Add to Cart
30-4
#30 Spoon Gouge 4mm (#9 Sweep)
$44.00
Add to Cart
30-10
#30 Spoon Gouge 10mm (#9 Sweep)
$46.00
Add to Cart
35-12
#35 Back Bent Gouge 12mm (#8 Sweep)
$48.00
Add to Cart
38-8
#38 Back Bent Gouge 8mm (#8 Sweep)
$44.00
Add to Cart
38-12
#38 Back Bent Gouge 12mm (#8 Sweep)
$48.00
Add to Cart
39-2
#39 V Chisel 2mm (#8 Sweep)
$49.00
Add to Cart
39-10
#39 V Chisel 10mm (#8 Sweep)
$49.00
Add to Cart
17-10
#17 Long Bent Gouge 10mm (#8 Sweep)
$44.00
Add to Cart
42-8
#42-8 Long Bent V Chisel 8mm (#41 Sweep)
$48.00
Add to Cart
42-25
#42-25 Long Bent V Chisel 25mm (#41 Sweep)
$85.00
Add to Cart
46-30
#46-30 Long Bent V Chisel 30mm (#41 Sweep)
$85.00
Add to Cart